Opposition kingpin Col. Kizza Besigye has appealed to National Social Security Fund (NSSF) to roll out a program to pay members part of their savings to afford them vital support through Coronavirus (COVID-19) crisis that has threatened to sink the nation.
Uganda on Tuesday registered eight new cases of the pandemic as locals who arrived in the country on Saturday from Dubai tested positive.
The total number of confirmed cases is nine in three days.
The country has since degenerated into panic with majority fearing for their financial support in this difficult period as the economy takes a nosedive.
Besigye, then wondered why the management of NSSF has not started paying off members.
"It's surprising that NSSF hasn't, as yet, rolled out a program to paying out a portion of members' savings to afford them vital support through the COVID-19 crisis," he posted on his twitter page.
"Coronavirus is spread through sneezing, coughing or contact with contaminated surfaces. To avoid the disease, wash your hands with soap regularly, don't spit in public, avoid crowds and stay home if you have flu. Protect yourself and your loved ones. Let's fight Corona together. This message is from the Ministry of Health"
Adding that: "Isn't this what "Social Security", a safety net, is about? This is a world crisis of unprecedented proportions."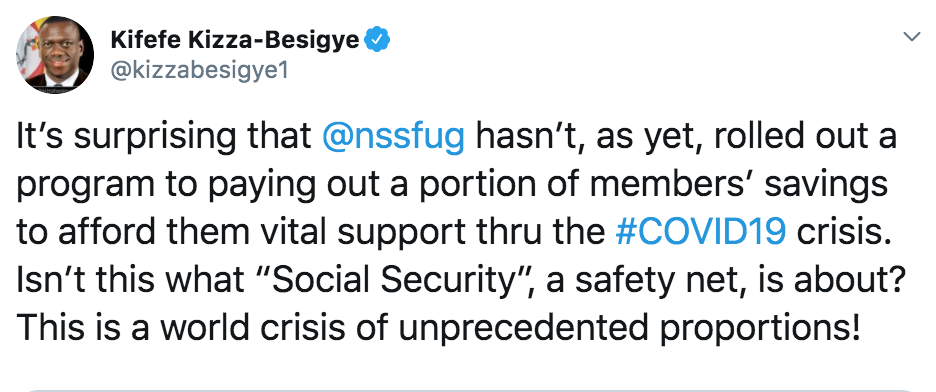 The National Social Security Fund is National Saving Scheme mandated by Government through the National Social Security Fund Act, Cap 222 (Laws of Uganda) to provide social security services to employees.
Responding to Besigye's suggestion, Richard Byarugaba said it would be illegal to pay off people who are not aged 65, mentally incapacitated or survivors (beneficiaries) as stipulated in the law.
"NSSF was created as an old age pension scheme. So there is no where in the law that it's a security scheme," said the Managing Director of NSSF.
He advised politicians like Besigye to seek clarity from Ministry of Finance regarding government's fiscal and monetary policies in supporting the looming crisis.
Byarugaba said government can manage the crisis by buying NSSF's treasury bills to ensure that the country doesn't run out of liquidity.
Download Our News App Here