Many people have said so many things about last weekend's secret introduction ceremony of Buikwe Woman MP, Judith Babirye.
Babirye introduced her counterpart, Paul Musoke Sebulime, the Buikwe North legislator.
Since Sebulime was said to be in a long standing relationship with another woman (Nnalongo) and since Babirye's divorce was never finalised, queries were raised about the validity of the exercise.
I will not dwell on legal matters but put the relationship of the two MPs into social context and offer my advice to Nnalongo, Babirye's "co-wife."
[corona country="Uganda" title="Uganda"]
Ugandans are fond of double standards and hypocrisy.
What the honourables Judith Babirye and Paul Musoke Sebulime did is what we do daily.
[corona country="Kenya" title="Kenya"]
Men cohabit with women or young girls come for a visit and stay forever to force a marriage but in most cases these relationship have ended this way..
Men eventually walk out of those relationship and commit to women of their status leaving the other lady crying foul.
I don't approve of it but that is life mwattu.
To me the only issue is that Babirye and Musoke are leaders who should have known that they are supposed to be role models and not scandal engineers in Buikwe.
By the time you put a Kwanjula in a hotel far from your parents home, then that is self indictment.
Although I am not disapproving of this relationship (love and marriage are personal issues) I am of the view that the two lover birds were a bit reckless and didn't put in enough homework before they went for their marriage ceremony.
However a wise man learns from mistakes of other. I have picked on their story to pass a word of counsel to our young girls.
Marriage is a sacred or contractual relationship. It so follows that legal marriage has consequences, entitles both the persons to obligations and to enjoy the benefit of living together, the concept of live-in relations has come into picture.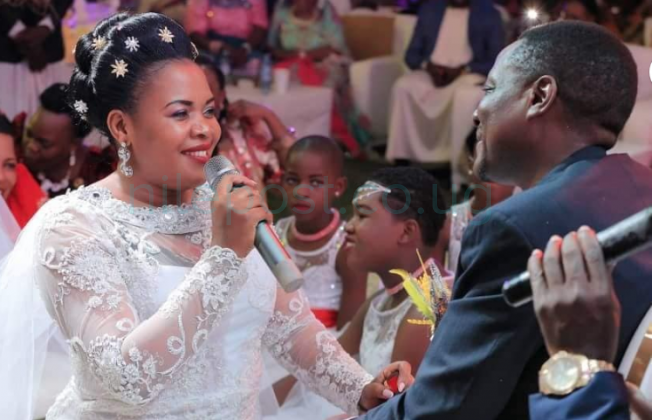 Live-in relationships provide for a life, free from responsibility and commitment unlike in a marriage.
The arrangement of living unmarried life together to conduct a long-going relationship similarly as in marriage is open to people.
In this relationship an unmarried couple lives together under the same roof in a way that resembles a marriage, but without getting married legally.
This form of relationship does not thrust the typical responsibilities of a married life on the individuals living together.
The foundation of live in relationship is individual freedom to get in and out without much encumbrances.
The Indian bench of Justices Markandey Katju and TS Thakur, cautioning that those who go in or live-in relationships must be ready to face the consequences in case they flop.
The Supreme Court of India has noted that just any 'live-in relationship' does not entitle a woman to alimony. '
Marriage is not just any other commitment. If people are shying away from marriages – one reason could be that people are scared of commitments that grow from marriage and are worried; what if it does not work out yet divorce procedures are cumbersome and taxing.
"Merely spending weekends together or a one-night stand,or stay together for months and even years would not make it a "domestic relationship."
If a man has a "keep" whom he maintains financially and uses mainly for sexual purposes and/or as a servant it would not, in our opinion, be a relationship in the nature of marriage", the judges ruled.
The law traditionally has been biased in favour of marriage. Public policy supports marriage as necessary to the stability of the family, the basic societal unit.
To preserve and encourage marriage, the law reserves many rights and privileges to married persons. Cohabitation carries none of those rights and privileges.
It has been said in the context that cohabitation has all the headaches of marriage without any of the benefits.
I wish therefore to add that we need to caution our girls not to walk into relationships,agree or even force themselves to live in, because in most case these young ladies end up like carpenters- they build the men and others take over.
After Babirye and Musoke pulled off a "secret kwanjula", my advice to Nnalongo is to cool down for Babirye hooked herself legally into a relationship with Musoke.
Drop bitterness and wish them a prosperous and happy marriage. If you take on this with a positive mimd one day you will look back and laugh at Ssalongo and Babirye.
Nnalongo, this has nothing to do with you…the fault is not on your side, the person to blame is Musoke who disappointed you and failed to respect and value your love.
I don't even buy into the argument that Babirye " stole your man" …are men commodities to be stolen?
Just know that Musoke gave his heart therefore his love to another woman and the woman took it on smartly and brought him to his knees to propose.
Whether this will work or fail, that will be another matter. For now pursue issues related to the welfare of your children.
Nnalongo don't allow your life to get shattered, handle your situation gracefully for this is definitely not the end.
The author is MP for Mukono Municipality
Add your comments:
Download Our News App Here