How 31 Year Old Juliet Was Trafficked To Jordan,Kidneys Removed, Repatriated Back Home
According Moses Nyakana husband to the late Juliet Nakiyimba, his wife and mother of five, had left their home in Kigagga zone in Makindye to attend to her sick parents but the story changed a month later when he was informed his wife was badly sick and needed to be repatriated to Jordan.
Questions started lingering in Nyakana's mind because he didn't know how the wife who had gone to take care of her parents had ended up in Jordan, which is many miles away from their marital home in Makindye.
Fast forward, Katwe police station have arrested to people before slapping human trafficking charges on them for maiming Nakiyimba to death while in Jordan before her body was repatriated to Uganda last month.
According to the Kampala Metropolitan Area police spokesperson Luke Owoyesigyire, Muhammed Musoke and Timothy Wakhasa were arrested on Wednesday following an investigation by police indicated that they had been involved in the crime.
ADVERTISEMENT
"Nyakana told our investigators that the deceased left his home to go to the village to visit her sick parent. The unsuspecting husband would later call to establish whether she had reached safely but he attempts to reach Nakiyimba were futile because his number had been blacklisted,"Owoyesigyire said.
It is alleged that Nyakana would after a few weeks be sent voice notes and whats app messages by Nakiyimba to confirm to him that she had flown out of the country and that she had reached abroad safely for greener pastures.
Things Change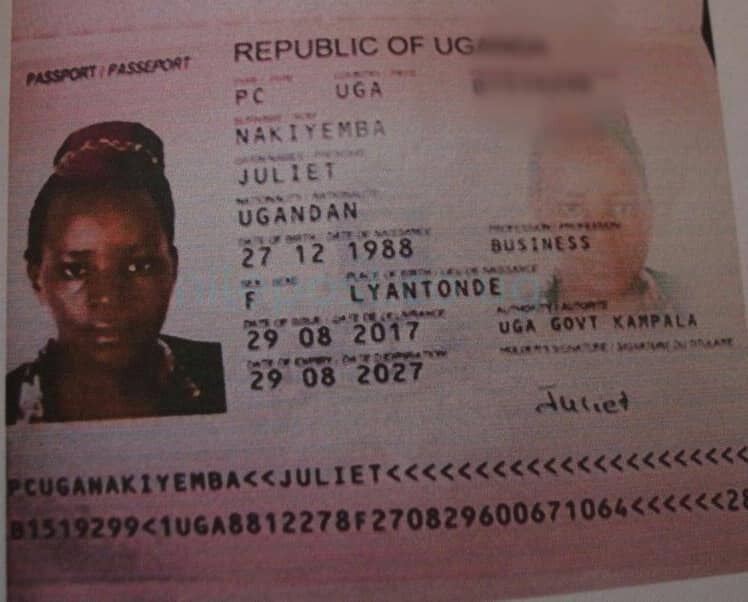 According to Nyakana, things changed when he received a call in September from an unknown person informing him that his wife was very ill and was to be repatriated back, a call he never took serious because she had spent barely a month.
ADVERTISEMENT
"He was then called the second time by another anonymous person who told him that the deceased was mentally ill and had committed suicide by jumping through a window of a five storied building,"Owoyesigyire said.
It is then that Nyakana reported the matter to police in a bid to establish the name of the company through which his wife was flown abroad.
It was established that Nakiyimba had been trafficked to Jordan in August through Rwanda by Al Saudi Agency, located along Salaama road.
According to the death certificate issued by Jordan's ministry of interior, Civil Status and Passport, Nakiyimba died on September, 4, 2018 in the capital Amman before her body was repatriated on September 24.
"The post mortem reports confirmed that two of the deceased's kidneys had been removed a condition that may have resulted into her sudden death," the police mouthpiece said.
#Share Post To Keep Fellow Ugandans Informed and Vigilant