President Museveni has hailed Russia for always supporting the development of Uganda in terms of defence and security and Africa at large.
Museveni made the remarks on Wednesday during a meeting with his Russian counterpart, Vladimir Putin on the sidelines of the inaugural Russia- Africa summit held in Sochi.
"Russia and Uganda are cooperating very well in the areas of defence and security by buying good quality Russian equipment including aircraft," Museveni said.
He told Putin that ties between the two countries started way back during Africa's fight for independence when Russia and China supported Africans in their fight for freedom.
[corona country="Uganda" title="Uganda"]
According to Museveni, the relationship has grown through the years and noted that the Russia- China summit was long overdue.
"It will strengthen trade and bilateral relations between Africa and Russia. We are working on building workshops for maintenance and overhaul of equipment we get from Russia, like the aircraft which will greatly reduce costs," Museveni said.
[corona country="Kenya" title="Kenya"]
Both heads of state also discussed cooperation between the two countries in the areas of manufacture of human and livestock vaccines, explore space technology, construction, cyber technology and agriculture among others.
Putin Assures Museveni
The Russian President Vladimir Putin in response said he sees possibilities for cooperation between Russia and Uganda along the trajectories of construction and cybersecurity, as well as on other tracks.
"We also see possibilities for cooperation in the field of construction, development of information technologies and cybersecurity, agriculture, medicine and pharmaceutics, telecommunications, operation and servicing of helicopters, as well as ecology," Putin said.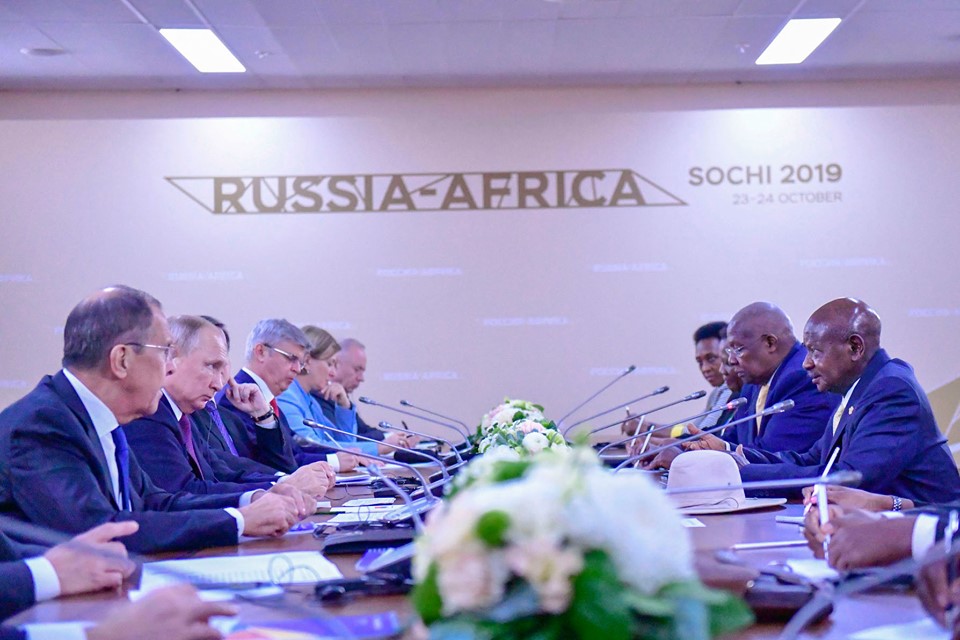 According to the Russian News Agency, Putin noted that the common task at the present moment is to develop trade and economic relations, as well as increase trade between the two countries.
"This said, I deem as useful the decision to set up a working group for cooperation in the natural resources sector within the framework of the intergovernmental commission, made during a business mission of the Russian business circles to Kampala," he said.
Putin said that with the participation of that commission, an agreement was reached in April 2018 to establish in Uganda a national system for exploring, assessing and certifying mineral deposits to set up an analytical laboratory with international accreditation.
The summit
All the 54 African states were represented at the first-ever Russia- Africa summit and these included 43 heads of state.
The forum co-chaired by Presidents of Russia and Egypt, Vladimir Putin and Abdel Fattah al- Sisi, the latter being the African Union chairperson.
The summit was preceded by a series of events including the Russia-Africa Economic Conference and the Russia-Africa Parliamentary Conference.
Speaking during the summit, Putin said Russia exports more food to Africa than firearms but noted they would increase their exports.
"We currently export to Africa $25 billion ($22.5 billion) worth of food — which is more than we export in arms, at $15 billion. In the next four to five years I think we should be able to double this trade, at least," Putin said.
Russia's strong involvement in Africa deteriorated following the fall of the Soviet Union in 1991 prompting China to take up the position that Moscow is now trying to regain.
Add your comments:
Download Our News App Here